August 1, 2016
Warehouse building in the Lehigh Valley surges in response to E-Commerce Demand
admin / Industry News
E-Commerce Forces Shift in Warehouse Building
Development in Pennsylvania's Lehigh Valley, closer to NYC than any other hubs, has surges in the past 5 years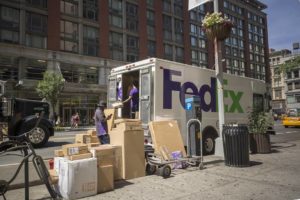 By Robbie Whelan, Wall Street Journal, August 9, 2016
The rise of online shopping is forcing warehouse builders to redraw the map of logistics hubs on the East Coast. –
During the weekend, FedEx Ground, one of the largest transporters of parcels and other shipments, broke ground for its largest facility in the country, an 800,000-square-foot automated distribution center in Allen Township, Pa., adding a large chunk of space to the cluster of logistics real estate in the state's Lehigh Valley area.
"E-commerce is really changing the shape of the market," said Perry Colosimo, a FedEx spokesman, in a written statement. "We conducted an exhaustive search across three states for the right location that would best enable us to meet this growing demand for our services … The Northeast region is a busy transportation corridor because of its population density and high concentration of businesses, and that trend is projected to continue."
Historically, the area around the central Pennsylvania towns of Harrisburg and York has hosted large clusters of warehouse space because of light zoning restrictions, access to several large city population centers and ample cheap land to build on. But in the last five years, as online retailers have begun to focus more on two-day and same-day package delivery, warehouse development in the Lehigh Valley, which is to the north and closer to New York City, has surged, according to brokerage CBRE Inc.
Since the end of the Great Recession in the second quarter of 2010, no U.S. industrial market has grown as fast as the Interstate-78/Interstate-81 corridor, which includes the Lehigh Valley and parts of Central Pennsylvania, but excludes the Philadelphia market. Developers have added 56 million square feet of space, increasing the size of the market by 25% over that period, exceeding double-digit percentage growth in Houston; Columbus, Ohio; and the Inland Empire area east of Los Angeles.