September 12, 2018
From the Philadelphia Business Journal: $300M development underway in Quakertown
Del Markward, SIOR / Trade Article
$300M development underway in Quakertown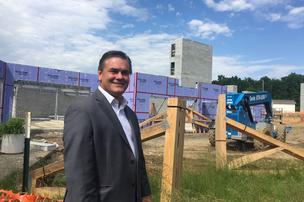 A $300 million real estate project is rising just off the Quakertown interchange of the Northeast Extension that is attempting something novel. Called Milford Village, the multiphased development was designed to be a mixed-use, intergenerational community and not a place to simply "warehouse the elderly."
The master planned, multiphased development will sit on 216 acres off Route 663, the main route connecting the turnpike interchange to Quakertown. Milford Village looks to create a community for the very young and the very old as well as those in between. While that sounds a lot like a typical town or pockets of a city, this is more deliberate. Plans for Milford Village intentionally places the young with the old to create intergenerational social dynamics that can benefit all ages.
"What you get out of this is an answer to a lot of social need," said Roger Hiser, president and CEO of LifeQuest, a nonprofit senior and childcare service provider that is an integral partner on the project and owner of the 167 of the 216 acres that are being developed. "Everything I have managed or developed has evolved because of a need," he said.
Both Hisder and Del Markward of Caracor Development, a real estate development arm of Markward Group and master developer of Milford Village, believe the project will solve an unmet need in the real estate market.
The first phase will involve the Village of Life Quest and expanding an existing nursing center operated by LifeQuest. The addition will have 123 assisted living units and 40 memory care units. A new child care center will also be developed as part of the first phase and an existing child care facility will be converted into corporate offices for LifeQuest.
That initial phase is underway and expected to be completed next year, the same time that St. Luke's University Health Network will complete a new $100 million, 132,000-square-foot hospital, cancer center and office building on 30 adjacent acres fronting Route 663. That land had been part of the original Milford Village property but sold to St. Luke's eight years ago. The hospital system is under agreement to buy another 8.5 acres.
The second phase of Milford Village will entail developing 335 market-rate apartments and a 498-unit, 55-plus congregate care facility. Subsequent phases will include the development of: two office and retail centers of which one will total 43,200 square feet and the other 50,200 square feet; 13,000 square feet of space for business center and banquet hall; 74 townhouses and cottages; a restaurant totaling 6,000 square feet; and potentially another 30,000 square feet of retail or office space. A hundred acres will be preserved as open space.
It's been a long road to reach this point. LifeQuest bought and assembled several contiguous properties surrounding its existing facility over the last 30 years. Markward spent 16 years figuring out what to do with the 216-acre property. At one point, a retail outlet center was planned for the site but when the financial crisis and declining retail environment hit in 2008, those plans were shelved.
"This has been a 16-year journey of unpaid love," Markward said.
LifeQuest spent 10 years securing zoning for a master plan for the property. It received approvals in 2010 for a mixed-use development anchored by its medical and senior care facility. Late that same year, St. Luke's bought its parcel with an eye toward eventually building a hospital.
When St. Luke's bought its parcel, creating another anchor for the development, Caracor's plans began to shift and conversations between Hiser and Markward began to see something totally different for the site. The zoning allowed a continuum of ages of uses and from that a new vision for the property took hold. The idea was to build projects from a day care to nursing home and hospital and not build some thing that "warehouses the elderly," Markward said.
Milford Village is executing on a philosophy that provides access to living in an environment were one's life progresses. It's both a social and commercial endeavor. Aging parents can conveniently live near their children and have access to care and each other. Aging adults who are still active can participate at the child care center where children can have a so-called grandfriend in their life and both can benefit mentally and socially from the interaction as can the families or singles living in the townhouses or apartments. Milford Village sets out to set up a system that has more livability and viability and whether it is successful can only be measured years from now.
"I bought into it because it made sense," Markward said. From Hiser's view point, "it answers a ton of problems," he said.
When built out and fully operational, Milford Village may eventually become a blueprint for similar projects in the future. There have been other attempts at creating what is called a "intentional intergenerational community." In 2012, the American Association of Retired Persons established a list of "America's Best Intergenerational Communities" and last year, Retirement Living Sourcebook did the same.
In another version, the W.K. Kellogg Foundation has funded Generations of Hope Development Corp., which has a model to work with organizations that are involved with foster care, those who have left prison, in drug treatment or some other challenging state to create intergenerational neighborhoods to support, for example, foster children and their adoptive parents.
Work on other parts of Milford Village are expected to get underway in six months.
[/vc_column_text][/vc_column][/vc_row]